A mix of virtual and in-person events, the week highlighted regional innovation and potential for growth as a community of the industries of the future
The Innov865 Alliance celebrated Innov865 Week 2021 via a mixture of in-person and virtual events from Monday, October 4 – Friday, October 8.  The week-long celebration brought together entrepreneurs, investors, local businesses, government leaders, and the public to celebrate Knoxville's thriving startup community. 
From the week's pinnacle event Startup Day, to a panel discussion about the Techstars accelerator coming to the region, Innov865 Week emphasized the community's entrepreneurial accomplishments and opportunities for future growth. 
VIP kick-off event
To kick off Innov865 Week, the Innov865 Alliance hosted a small happy hour at "The Scroof," Scruffy City Hall's rooftop located in Market Square. Tom Ballard, PYA executive and Innov865 Alliance member, kicked off the event saying, " We are so happy to be back together again after two years. This week celebrates amazing entrepreneurs in our community and we are so excited to kick-off this event together!"
Startup Day 2021
On Tuesday, the week's main event, Startup Day 2021, took place at the Mill & Mine, where six of Knoxville's most investable startups pitched their businesses in front of a panel of investor judges and the audience for the chance to win up to $10,000 in cash prizes. Bruce Ramshaw, Founder of CQ Insights, took home the $7,000 Innov865 Judge's Choice Award, while Brandon Bruce, CEO and Co-Founder of Uncat, won the $3,000 Crowd Favorite cash prize, presented by Truist.
Additionally, the Innov865 Alliance revealed this year's Impact Award winner, presented by Verizon, to a Knoxville entrepreneur who has made the greatest impact in their industry and community: Bill Malkes.  Malkes was appointed Chief Executive Officer of NellOne Therapeutics in April 2020. He previously co-founded and led GRIDSMART Technologies Inc, a global intelligent transportation solutions business, which was sold for $87 million in 2019.
Watch the event's Sizzle Reel and Impact Award videos on the Innov865 YouTube channel.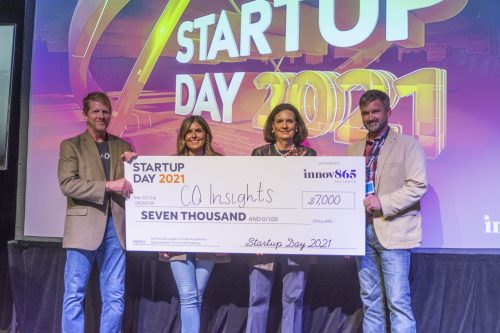 Raising and Rising
On Wednesday, the Knoxville Entrepreneur Center and Three Roots Capital hosted Raising and Rising, a hybrid event of pre-recorded pitches with seven local entrepreneurs, live Q+A, roundtable discussions and networking.  The virtual event was hosted on Lunchpool, where the company also provided free pizza delivered to all attendees.
"Raising and Rising is another opportunity for us to showcase some of the great talent and entrepreneurs that are rising stars in Knoxville," said Jim Biggs, Executive Director of KEC. The seven pitchers included:
Alt Route Meals, Hope Westall

Aught Entrepreneurs, Erika Biddix

Breedwise, Kendrick Smith + Paul Hassell

Poze, Ian Ratner

Primeaux, John Phillips

RepMe, Rafael Darosci Henrique

Unbound Water, Sam Evans
CGI, a global information technology (IT) and business consulting services firm, sponsored the event. Matthew Kittrell, CGI's Knoxville Center operations lead for commercial and state government operations, welcomed attendees, remarking about how CGI is pleased "about being the presenting sponsor" of the event.
"One of CGI's core values is intrapreneurship," continued Kittrell. "Now, while we're not a startup company, CGI creates and cultivates a culture that encourages innovation and startup-minded thinking. It was this value of intrapreneurship that initially led CGI to get involved with the Innov865 Alliance and it's why we're so excited to be presenting this year's Raising and Rising event."
Read more about CGI and its core value of intrapreneurship on the Innov865 blog. 
Showing Up for Women Entrepreneurs
On Wednesday evening, the Knoxville Entrepreneurship Center hosted WiE – Women in Entrepreneurship – for an event entitled, "Showing up for Women Entrepreneurs."
Booth Andrews, owner of Booth Andrews LLC and WiE Co-Chair, moderated the panel discussion among three local voices in Knoxville's entrepreneurship realm:
Stacy Baugues | Founder of

PowerUp Fitness

Tanika Harper | Executive Director of

Shora Foundation

Richard Dapaah | Managing Partner of Seaford Capital Management
The panelist shared their perspective towards their roles within access to capital, ecosystem building, and individual entrepreneurship. 
"People need capital, and people need a place to work that isn't their kitchen – we're doing our best to help move the needle forward."," said Tanika Harper, Executive Director of Shora Foundation.
The event provided a space for women to connect with fellow entrepreneurs, and listen to the stories of those who have navigated the intimidating waters of starting their own business.
"It's okay to not have the answers, it's okay to not even know what you need. That's why we are connectors. If you will put yourself out there enough to say, 'I have a question, I would love to meet someone who could help me with this.' We can get you in front of the right people. There is not a moral failure in not having the answers. But you need to be willing to ask," said Booth Andrews.
For more information on the resources WiE has to offer, check out their Facebook group.
Innovation Crossroads Showcase
On Thursday, the Tennessee Advanced Energy Business Council hosted an Innovation Crossroads showcase of Cohort 5. Each member of Cohort 5 showcased their company and the presentations were followed by a Q&A from the audience. 
"Every year this week gets bigger and bigger and that is due to the thriving entrepreneur community here in East Tennessee," said Dan Miller, Innovation Crossroads Program Lead. 
The event was hosted by Miller and TAEBC Executive Director, Cortney Piper.
The Cohort 5 presenters included: 
Caleb Alexander, DayLyte Batteries

Sam Evans, Unbound Water Technologies

Tommy Gibbons, Hempitecture

Shuchi "SK" Khurana, Addiguru

Forrest Shriver, Sentinel Device

Philip Stuckey, FC Renew
The Innovation Crossroads program works closely with TAEBC's Energy Mentor Network, a mentor program that partners with LaunchTN to create quality startups in Tennessee.
Cortney Piper stated, "Over the past year the Energy Mentor Network has served over 20 companies and they have raised over $4 million." 
Learn more about ORNL's Innovation Crossroads program here. 
Attracting Industries of the Future to East Tennessee
The East Tennessee Economic Council's (ETEC) virtual and in-person meeting, Attracting Industries of the Future to East Tennessee, wrapped up the week of events Friday morning. 
It featured a panel discussion with Randy Boyd, President, University of Tennessee;  Jeff Lyash, President & Chief Executive Officer, Tennessee Valley Authority; and Dr. Thomas Zacharia, Director, Oak Ridge National Laboratory. The panel was moderated by Tricia Martínez, Managing Director of the Techstars Industries of the Future Accelerator.
Boyd, Lyash and Zacharia answered a range of questions from Martínez and attendees about the Techstars accelerator,  motivations for bringing the accelerator to the region and the strengths and challenges of the community in supporting current and future entrepreneurs. 
"The three of us are now working together to support Techstars," said Randy, highlighting other collaborative efforts and how Techstars will be a "catalyst" for future growth in the area.
Speaking about their goals with the accelerator, Zacharia explained that bringing Techstars to the Knoxville-Oak Ridge region was about "bringing the community together, putting a stake in the ground and giving it visibility." 
The three panelists also issued calls to action for the community. Lyash highlighted the importance of engaging with the startups and making sure they're not just successful-but "successful here."
"We need all hands on deck," said Martínez, emphasizing that all Techstars startups will need the community's support over the next few years.
Did you love Innov865 Week 2021? Sign up to receive the latest Innov865 news, emails and event notices. We'll update you on how the Innov865 Alliance is continuing to develop, support, and promote the Knoxville region's entrepreneurial ecosystem.