Every year, the Innov865 Alliance hosts Innov865 Week, a week-long event full of learning, networking and supporting the entrepreneurial ecosystem in Knoxville. Startup Day, the week's premier event, provides local entrepreneurs the opportunity to pitch their company to a room full of spectators and judges for the chance to snag cash prizes.
Ahead of this year's event, we're catching up with past Startup Day pitchers and winners to hear stories, advice and updates about their entrepreneurial journey.
This month, we're speaking with  Stacy Baugues, Founder and CEO of PowerUp Fitness.
Tell us about your startup.
PowerUp Fitness empowers youth through fitness, education and fun through our three signature programs – PowerUp Your School, PowerUp Fitness Classes and PowerUp Peanuts.  We certify wellness champions as PowerUp instructors and provide them with detailed, ready-to-use workouts to confidently lead youth fitness classes in their communities.  Instructors are trained and supported through our online instructor training platform and provided with hard copy lesson materials to successfully carry out PowerUp programming. Our easy-to-use physical activity programming provides schools, before and after-school programs, camps, youth organizations, childcare and fitness centers with the much-needed resources to make movement and learning fun.
What made you want to create your company and become an entrepreneur?
I was motivated to find a way to combine my background as an exercise physiologist with my passion for working with kids. I feel strongly that if people can find "joyful movement" early in life, especially as children, then we can truly inspire lifelong physical activity.  When my career path intersected with elementary education, a light bulb went off. What if kids could have fun and be active while learning math, spelling and vocabulary but in a way that feels totally unique compared to the school day?  Thus, PowerUp Fitness and the PowerUp Your School program were born.
What is the best part about being an entrepreneur?
It's been so incredible to start with an idea and build it into a business. I've loved learning and leading through every step of the process – curriculum development, printing, web design, shipping, etc. While not easy, it's been so rewarding. A customer and afterschool site leader recently shared that her students "were having so much fun they didn't even realize they were learning." To get that kind of feedback and know that what once was just an idea is making a real and lasting impact.
What is the most challenging part about being an entrepreneur? 
Time allocation. As an entrepreneur, especially early on in a bootstrapped company like PowerUp, you're wearing all the hats.  Should I spend today focused on driving sales, updating our online catalog, doing bookkeeping, or automating support tickets?  It's hard to prioritize when everything feels like a priority.  Over time, I've found a workflow and balance, but those days when it feels like everything is on fire will still sneak up on me.
How has the Knoxville community supported your entrepreneurial journey?
Knoxville is at the heart of PowerUp. From a professor's nudge to enter the student business competition at the University of Tennessee (back in 2012) to continued support from UT's Anderson Center for Innovation and Entrepreneurship and the Knoxville Entrepreneurship Center, there isn't a better place to start and grow a business.
I've had the opportunity to learn from successful entrepreneurs, be paired with incredible mentors, connect with investors, and participate in programs and competitions like What's the Big Idea? Pitch Competition and Startup Day.  All of this support and resources have been offered completely in kind by the entrepreneurial organizations here in Knoxville – the network and expertise available to startups in Knoxville are invaluable.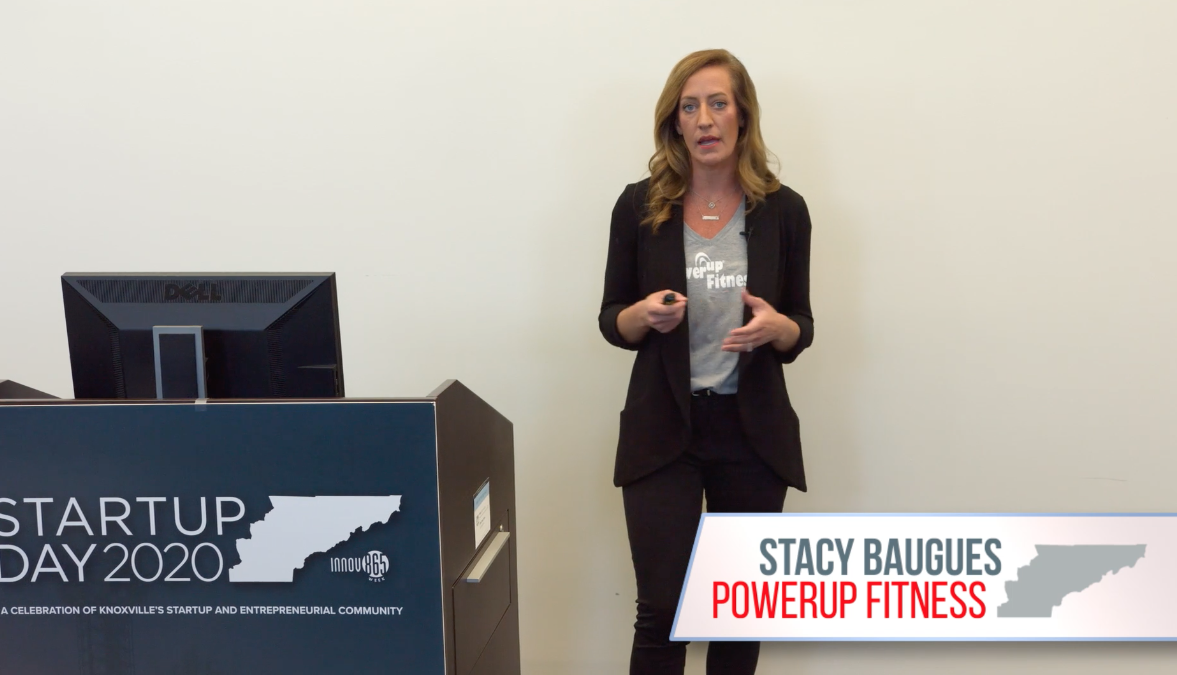 When you pitched at Startup Day, what was your experience like? 
It was so much fun and I learned so much.  I pitched in 2020, during COVID, so the competition was virtual, but the nerves were still real. Startup Day is so much more than the 10 minutes we see on stage. Leading up to Startup Day, we had the opportunity to participate in promotional interviews with local news affiliates and do guest interviews on podcasts.  We had access to pitch coaches and business mentors to offer feedback and guidance.  Even though I didn't win, I've continued to lean on those experiences and opportunities as PowerUp continues to grow.
What are some notable highlights or developments your startup has experienced since pitching at Startup Day?
Our national presence and credibility has grown tremendously.  I'm proud to share some of our recent accolades:
The US Department of Education has extended annual invitations to present PowerUp as a high-quality instructional program at the USDOE Nita M. Lowey Summer Symposium for 21st Century Community Learning Centers. 

Delaware has adopted PowerUp Your School in all federally funded after-school sites statewide  

PowerUp Your School is approved by and included in the USDA SNAP-Ed Toolkit as a high-quality physical activity program.
Looking toward the future, what's next for you and your startup?
Since 2019, we've focused on the growth of PowerUp Your School, our school-based fitness program for grades K-8.  We're excited to announce the launch of PowerUp Peanuts, it's all about movement, learning and fun for preschoolers.  Program materials and instructor training will launch in Spring 2023. 
What advice do you have for future Startup Day pitchers?
Tell your story and make connections.  The audience will connect with the why, the personal story behind your business.  Start there to draw the audience in and then move on to how.  Regardless of the competition outcome, connect with people in the audience, everyone attending wants to support Knoxville's entrepreneurial ecosystem.  There could be potential investors, future mentors, or even your next employee – take advantage of this platform and don't overlook the opportunity for a connection.
Follow @Innov865 for more pitcher stories and information about Innov865 Week and Startup Day 2023!