Every year, the Innov865 Alliance hosts Innov865 Week, a week-long event full of celebrating, networking and supporting the entrepreneurial ecosystem in Knoxville. Startup Day, the week's premier event, provides local entrepreneurs the opportunity to pitch their company to a room full of spectators and judges for the chance to snag cash prizes.
Ahead of this year's event, we're catching up with past Startup Day pitchers and winners to hear stories, advice and updates about their entrepreneurial journey.
This month, we're speaking with Bryan Crosby, CEO of Southeastern Packaging Technologies.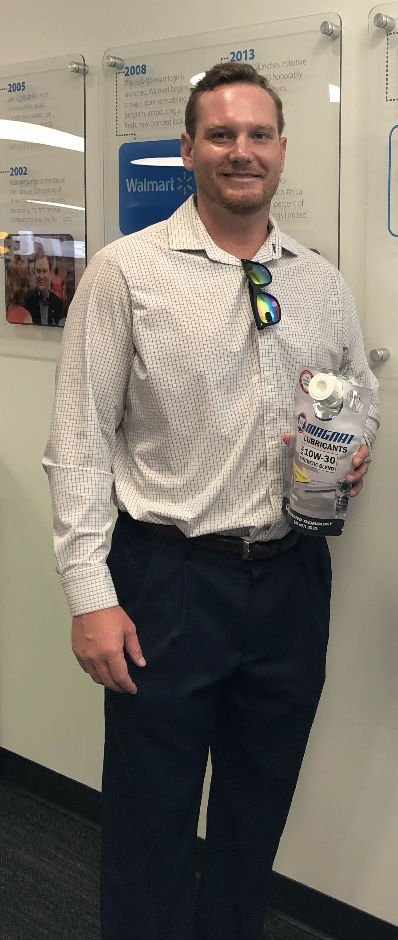 Tell us about your startup.
At Southeastern Packaging Technologies, we work with existing high-volume fluid packaging businesses to seamlessly transition their packaging offerings into more sustainable options. We have over a dozen issued patents and two dozen pending patents which improve the way sustainable packaging options for everyday items currently packed in plastic jugs or bottles are filled, packed, palletized, shipped and ultimately experienced by the end user. 
We work with the blenders and packagers to supply fully automated filling equipment and licensed technology which ensure volumes and costs are consistent with what our customers are already selling and supplying –  while being able to offer packaging styles that reduce waste by up to 90%, in-bound raw materials by up to 85% and outbound shipments by up to 40%.
What made you want to create your company and become an entrepreneur?
I grew up in an entrepreneurial family – we had a gas station, a car lot, a restaurant, a car hauling business and several other businesses. After developing and launching our original patented FunLPro product in 2015 while pursuing my MBA at University of Tennessee, Knoxville, we launched in stores with our friends at KenJo Markets here in town, ultimately getting to shelf at Walmart and bringing on the need to bring on investors.
What is the best part about being an entrepreneur?
A successful entrepreneur once said running a startup is like cramming a lifetime of work into 3 to 5 years. I believe the strategy, level of difficulty, the relationships you build and the network you develop are among the most fun and rewarding.
What is the most challenging part about being an entrepreneur? 
A lot of what you develop, you must start from scratch – and mostly alone. Strategy can change frequently, and you must adapt and evolve to the market opportunities through the years. Level of difficulty or likelihood of success can change instantly overnight (re: COVID), along with sales cycles, cash flow, etc. In our case and many others I've seen along the way, success is often a feat of perseverance more than having a great idea or being the smartest guy in the room.
How has the Knoxville community supported your entrepreneurial journey?
It has been critical since day one. Randy Boyd provided our first seed money through the Boyd Venture Challenge in grad school to make our initial injection molds and fixed assets, University of Tennessee Research Foundation supported in various ways, Jim Biggs, Jon Sexton and the Knoxville Entrepreneur Center crew were always there for whatever I needed.
Ultimately our financial backing came from our University of Tennessee/startup network as well.
Three Roots Capital, a local CDFI, has also been instrumental in helping us continue our momentum and find additional funding opportunities. A few years after our Startup Day pitch, 3Roots helped us obtain a $50,000 loan through their Rural Microentrepreneur Assistance Program (RMAP). They fill a very big and meaningful void in the funding market for East Tennessee companies like ours.
When you pitched at Startup Day, what was your experience like? 
It was a great experience. I got to develop my business plan, go-to-market, funding strategy and organizational chart in a way that few are able to. One of the most critical things that has impacted me as a CEO was a question asked by one of the panelists which was along the lines of,) "What's next and how do you go from a product to a company?" I believe that line has stuck with me every day.
Looking toward the future, what's next for you and your startup?
We have just closed on a licensing contract in the automotive chemical space with a blending and packaging company with national facilities and distribution. The contract includes commitments to multiple machines per year and a licensing / royalty program for our patented products off the line. 
The finished goods have been picked up by several leading major retailers and will begin national distribution Q3 2023 through our filling partner and licensee. We look forward to expanding our products and services across the global supply chain for fluid packaging, eliminating hundreds of millions of tons of plastic waste while maintaining key costs and margins.
What advice do you have for future Startup Day pitchers?
More important than winning the prize money, let it be a lesson to vet your idea or strategy. Nothing will replicate competition in real markets, but this exercise will hone your pitch, business plan and go-to-market more sharply than any classroom exercise.
Follow @Innov865 for more pitcher stories and information about Innov865 Week and Startup Day 2023!