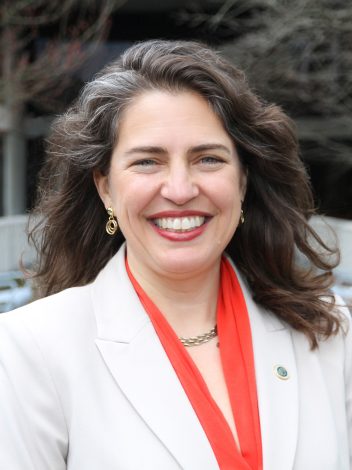 Mayor Kincannon campaigned on a message of creating and spreading opportunity to all parts of Knoxville. She pledged to balance smart growth with a need to protect green spaces, to promote transparent and efficient government services, and to continue Knoxville's collaborative work with partners to increase affordable housing.
At the core of her message was a commitment to strengthening neighborhoods and encouraging vibrancy.
She was elected on Nov. 5, 2019.
Mayor Kincannon lives in North Knoxville.
From 2015-18, she worked in Mayor Madeline Rogero's administration as Special Programs Manager.
She administered $1.6 million in Community Agency Grants to more than 65 local non-profit entities, created and managed an automated database for hundreds of appointments to boards and commissions, and served as the Mayor's Liaison on various special issues such as education, health and Census 2020.
Mayor Kincannon's first leadership role in Knoxville was as an education advocate.
Her parents had taught her that if you see problems in your community, you should fix them. Inspired by their example, she wanted to improve educational opportunities for children. So she ran for a seat on the Knox County Board of Education in 2004 and served for 10 years (2004-14), elected as Chairperson three consecutive years (2008-11).
Kincannon oversaw a $450 million budget for a school system of 60,000 students and more than 8,000 employees. Throughout her tenure on the school board, she was steadfast in her efforts to make sure all children had access to high-quality education, regardless of their income, race or ZIP code.
These efforts met with great success. Fulton High School's graduation rate rose from 46 percent to over 80 percent, and she helped launch several new schools, including L&N STEM Academy, the Career Magnet Academy, and the Paul Kelley Academy.
Kincannon served as a founding Trustee for Great Schools Partnership (2008-11), as a member of Gov. Bill Haslam's Opportunity Scholarship Taskforce (2012), and as a board member for Project Graduation Really Achieves Dreams (2004-14).
Mayor Kincannon also taught writing, history, Spanish and drama to international students in Ljubljana, Slovenia (2014-15).
She graduated Princeton University's Woodrow Wilson School of Public & International Affairs with a Master's Degree in Public Affairs and Urban and Regional Planning (1999).
Prior to that, she earned her B.A. in history (1993) from Haverford College, where she captained the varsity tennis team.
She also studied Spanish colonial history (spring 1992) at the University of Barcelona, and she took teacher licensure courses at the University of Tennessee (2014).
Mayor Kincannon is the proud mom of two teenaged daughters, Dahlia and Georgia, and she's been married since 1995 to her husband, Ben Barton, a law professor at the University of Tennessee. They have a mixed-lab rescue dog named Bobo, who keeps her company on walks and runs through Knoxville's Urban Wilderness, where she also enjoys mountain-bike rides.